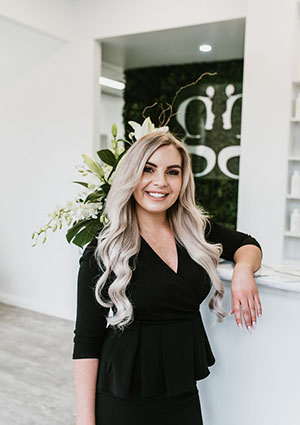 Krystal is a passionate entrepreneur with continuous training, she is qualified and houses many talents in Hairdressing, Extensions, Nails, Spray Tanning, Makeup Artistry and Beauty Therapy.
Since 2009 Goddess Glow has been a vision of what the brand is today constantly growing with a strong approach to consistency and loyalty Krystal takes pride in knowing her team will be able to take care of you and your hair needs working in and alongside her team to ensure that each team member is competently trained in the services within our in-salon training program which is separate to TAFE education.  Our team members will not be let loose on your hair as they are only allowed to provide salon service once they have passed in salon assessment rest assured in that each team member knows exactly how to achieve your desired look.  
Krystal has also completed the following:
• Keune Hair Cosmetics Colour Expert Course
• Great Lengths Hair Extensions Expert Course
• Young Nails Educator Course
Founder of Goddess Glow Hair Extensions:
Goddess Glow Hair Extensions – a range of beautiful hair extensions
Specialising in Blondes, Extensions, Textured Long Hair and Multi-Dimensional Hair Colour Krystal's knowledge and expertise will leave you feeling reassured and at ease to deliver the hair you have always dreamed of.
Session Stylist 
Lisa is our session stylist: eager to learn and grow within the hair industry applying her knowledge in salon, Lisa is a fast learner warm and caring, her basin experience is absolutely amazing.
Lisa is now offering the following sessions: Colouring, Foiling, Bowdry's, Styling, Hair Extensions and Tanning,
Lisa's favorite thing to pass time is dancing and performing as well as spending time with her family and her puppy. 
In line with Lisa's creative flare, she is loving each and every aspect of hairdressing and especially loves seeing her guests happy with revealing the end results of their hair session.
Lisa's Appointment book is open: check out the booking link below.